Fabrizio and Giacomo
Original Filename: fabrizio_and_giacomo.JPG (view)
Original Size: 245.3 KB
Original Image Type: image/jpeg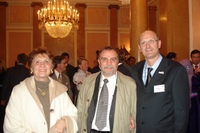 Caption
We met some lovely and talented people at the 2007 World Summit Awards in Venice.
left to right: Fabrizio's mother (Teresa Ferrarin), Giacomo Rambaldi and Fabrizio Ferrarin.
Giacomo was involved with the project: Intangible Cultural Heritage in Fiji, a participatory 3D GIS from Fiji. This project was a winner in the e-culture section of the 2007 WSA.

Fabrizio developed an online music learning tool called MusicBus.
The photo was taken outside the Teatro la Fenice after the concert, before we headed off for a celebratory pizza meal with Fabrizio and his lovely family.

was the last to edit Fabrizio and Giacomo
on Apr 1st, 2008 at 12:21 AM

created Fabrizio and Giacomo
on Nov 23rd, 2007 at 4:20 AM