Jo with 3M trophy.
Original Filename: kete_award.jpg (view)
Original Size: 261.3 KB
Original Image Type: image/jpeg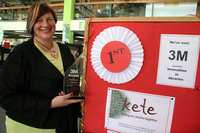 Caption
Kete Horowhenua Project Manager, Joann Ransom, holding the 3M Trophy for a photograph released with the Press Release prepared by Colleen Sheldon, Horowhenua District Council.

was the last to edit Jo with 3M trophy.
on Oct 3rd, 2007 at 7:20 AM

created Jo with 3M trophy.
on Sep 22nd, 2007 at 10:00 AM