Horowhenua SPCA
Original Filename: 2008_10120039.JPG (view)
Original Size: 1.5 MB
Original Image Type: image/pjpeg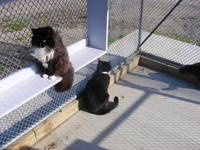 Caption
THE ANIMALS NEED YOU. Horowhenua SPCA is currently over run with animals who desperately require loving caring homes. The adoption fee of Cats/kitten $90.00 and Dogs/puppy $190.00 includes desexing, vacinations and general well being. All animals are vet checked prior to being adopted.
If you are wanting and are able to adopt a cat or dog, please call into our centre, at 169 Mako Mako Road levin.
Office hours: Mon - Fri 10am - 2pm and Saturday 10am - 12pm.
Phone number: 3686910.
created Horowhenua SPCA
on Oct 14th, 2008 at 7:19 PM