Topic:

NDF 2011 - Communities working collaboratively to preserve heritage in the age of the internet and mobile: Kete - 5 Years, 5 Defining Features presentation
Topic type:
The slides and speaker notes from Walter McGinnis's presentation as a part of the panel.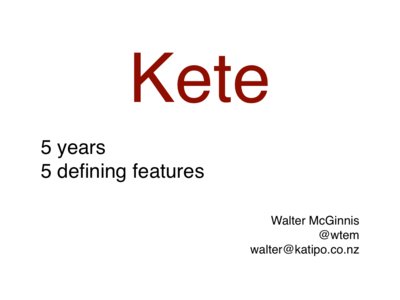 Hi everyone.
The start of the Kete project's code base recently had its fifth anniversary. I want to take this opportunity to look back at five defining features that have developed over those five years and how they helped those that set up Kete sites better reflect historical and contemporary life in their communities.
These overarching features are roughly sequentially corresponding to the year they were implemented, but very roughly. Quite a number of them developed over the entire life of the project.
Let's get to it!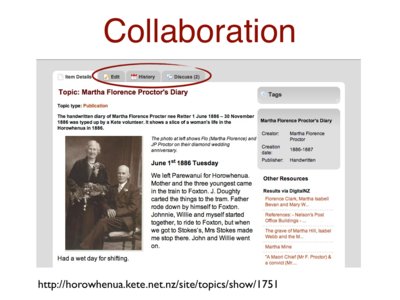 Collaboration is at the core of the feature set.
When Horowhenua Library Trust and Joann Ransom approached us at Katipo about their idea for the project, it was clear that enabling Wikipedia-style collaboration was the first priority.
We looked at existing open source wiki and repository projects before deciding we needed to build our own. We found wikis with repository features bolted on and repositories with wiki-style collaboration bolted on, but nothing with both ideas melded together elegantly.
So what, at its core, does easy collaboration look like?
Here I've circled the edit, history, and discuss buttons available on every item.
There is also an 'add item' link towards the top of every page.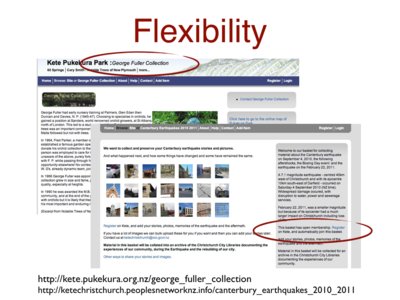 Flexibility
Even before Kete Horowhenua launched we found that collaboration tools were great, but sometimes you wanted to put them in a different context.
HLT had a plan to include the Adopt an ANZAC material which had been built up as a thoroughly researched collection.
We needed flexibility to be able to accommodate a different context for it. One where Adopt an ANZAC members could directly edit items in the same manner that one would on the site as a whole, but regular site members input would be only through discussion or linking related items.
Taking inspiration from our namesake, we added flexibility by creating 'baskets' that could be tailored to a given situation.
On the left, you can see the basket for the George Fuller Collection from Kete Pukekura Park. It is much like the Adopt an ANZAC context. The items are the papers of the former curator of the Park and should not be edited except by staff. However, they can be seen by the public, etc.
On the lower right we have a different need for flexibility on Kete Christchurch. The site wanted to invite contributions from the community about the earthquakes, but needed a dedicated area that could focus on the subject and guide and highlight things accordingly.
In this case, as you see in the circled area, the basket invites contribution from anyone that registers. The basket is set up so that new site members are automatically added to it.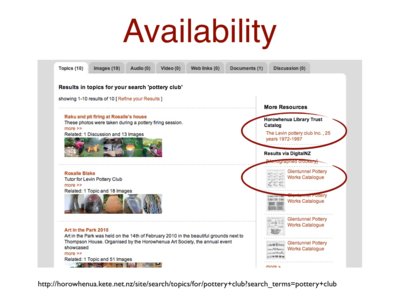 When I say 'availability' as a feature, here's what I mean:
Information on a Kete site is readily available to other sites and services, including other Kete sites, in open standards to help that information be widely available to as many people as possible.
I also mean that Kete strives to make information from relevant external sources available to the people that are looking for it through Kete.
Kete does this in a number of places, but it is particularly evident with search results as we can see in this slide.
This is a search for 'pottery club' on Kete Horowhenua. On the left, the results are from the site itself.
On the right we have 'more resources'. These results come from external sources.
The lower circle shows a result through Digital New Zealand that is actually from another Kete site, in this case Kete Selwyn. That Kete has made its info available from the built-in OAI-PMH repository to DigitalNZ who in turn makes its info, along with around 120 other content providers, available to Kete Horowhenua via its API.
Of these DNZ content providers there are something like 20 Kete sites making their content available to anyone that uses DNZ.
Incidentally, you can forego DNZ and search an external Kete site directly from yours, if that makes sense for you.
The top circle shows a result from HLT's library catalog, an instance of the Koha software, that also speaks the OpenSearch standard. It's a commonly supported scenario, you can even pull in Twitter this way.
So availability is really about being a part of and making the most of the larger information ecosystem.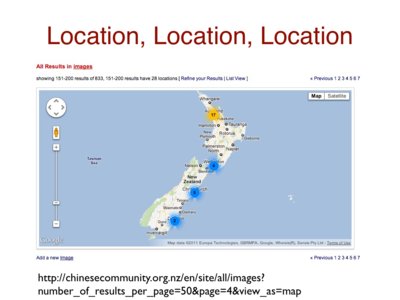 When I say, 'location, location, location' I'm probably being a bit too clever with my wordplay.
What I'm talking about is how we have added more precise and rich ways of describing information:
Location in space (I.e. places), location in time (I.e. dates and times), and an item's location in relation to another piece of information.
Anything, if set up, can have one or more sets of geo-coordinates associated with it and be presented on a map, as you can see here from the images on the Chinese Digital Community.
I can't get into the cool things you can do with dates and relationship stuff, unfortunately, but both have been greatly built on. Check out archivescentral.org.nz for examples.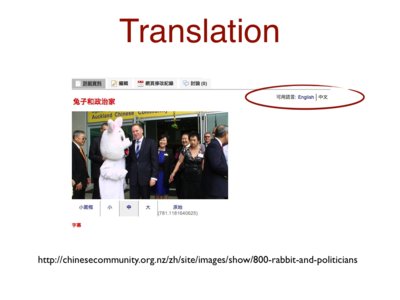 Translation
Incidentally, the title of this image, as far as Google Translate tells me, is "Rabbit and Politicians".
Kete has gained the ability to have its user interface be translated, but more exciting to me is you can now do direct content translation.
You can see what switching between translations of a piece of content looks like here, in Chinese, in the circle. On an item that hasn't been translated this area would have a link to 'translate' it.
Crowdsourced translation of content!
Wicked cool, as we would say where I grew up.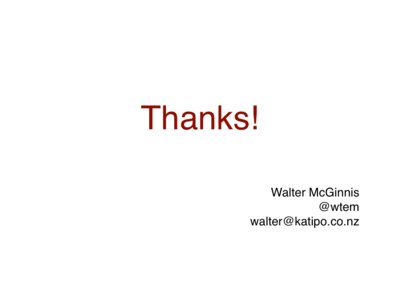 was the last to edit NDF 2011 - Communities working collaboratively to preserve heritage in the age of the internet and mobile: Kete - 5 Years, 5 Defining Features presentation
on Dec 9th, 2011 at 11:54 PM
created NDF 2011 - Communities working collaboratively to preserve heritage in the age of the internet and mobile: Kete - 5 Years, 5 Defining Features presentation
on Dec 2nd, 2011 at 12:21 PM