url: http://tinyurl.com/UNESCO-2012-Peer-Learning
A TEACHER RESOURCE CREATED FROM AN APPLIED RESEARCH OUTPUT IS NOW AVAILABLE FREE - Raising the Bar: Virtual Role Model Mentoring UNESCO Literacy project
The UNESCO Literacy audio-visual teaching resource is designed for teachers seeking to engage youth at risk of underachieving in literacy. It includes lively interviews of young people that teenagers can identify with, relating how they have overcome obstacles to realise their dreams. The project uses proven oral storytelling methodologies to integrate the significant lessons learned by these role models. The mosaic of stories responds to the range of needs and challenges that youth face by offering them access to positive role models to learn from.
The role models interviewed come from diverse backgrounds, including Maori, Pasifika and intercultural audiences as well as youth with learning or physical disabilities. It is essential to palliate for the lack of role model available to these subgroups.
The strength of the pedagogical model lies in its promotion of the cultural diversity behind lessons learned and the spirit of sharing what we learn with each other. Our vision is that these stories contribute to a repository of stories helping to strengthen social sustainability amongst New Zealand youth.
Enrol in the ITunesU course (screenshots below) via Ipad/Iphone at: https://itunesu.itunes.apple.com/enroll/EME-WP9-8K5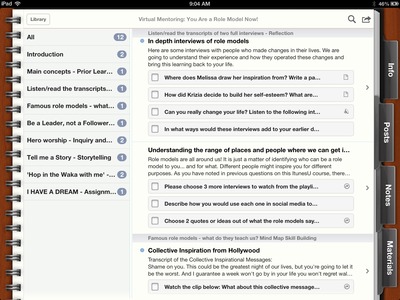 by EcosynergyGroup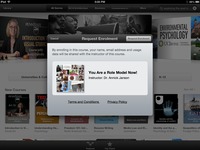 by EcosynergyGroup
We share our teacher resources nationally at relevant meetings and internationally with the World Summit on the Information Society (WSIS) Knowledge Community UNESCO multimedia platform, the Open Educational Resources (OER) UNESCO Forum and with the UNESCO International Bureau of Education (IBE) Community of Practice in Curriculum Development.
Our research is supported by the New Zealand National Commission for UNESCO, the Tindall Foundation and the Ministry for Social Development, in partnership with the business sector.
Contact person: Annick Janson, Research Associate, Centre for Applied Cross-cultural Research, Victoria University of Wellington and Ecosynergy Group Ltd, Hamilton. BIO: http://cacr.victoria.ac.nz/people/people/annick-janson

was the last to edit Role Models Teach us Resilience
on Jan 24th, 2013 at 8:38 AM

created Role Models Teach us Resilience
on Jan 21st, 2013 at 5:49 PM